The rise of computing's popularity it down to a combination of factors
Photo: John Schnobrich/Unsplash
Computing's popularity boom
In 2019, just over 10,300 students took Computing A-level. This year, the figure is 17, 251 – a staggering 67.5% growth.
GCSE entries grew nearly 13% from 77,707 to 87,405 over the same period.
Year on year, Computing is the fastest growing GCSE subject and second fastest A-level.
And that fascination does not stop at the end of Year 13.
UCAS' most recent data shows there were 94,870 applications for computing-related degrees this year, a near 10% rise on 2022 and 33% on 2021.
The statistics clearly show the appeal of these subjects is rocketing for students pondering their future education and careers.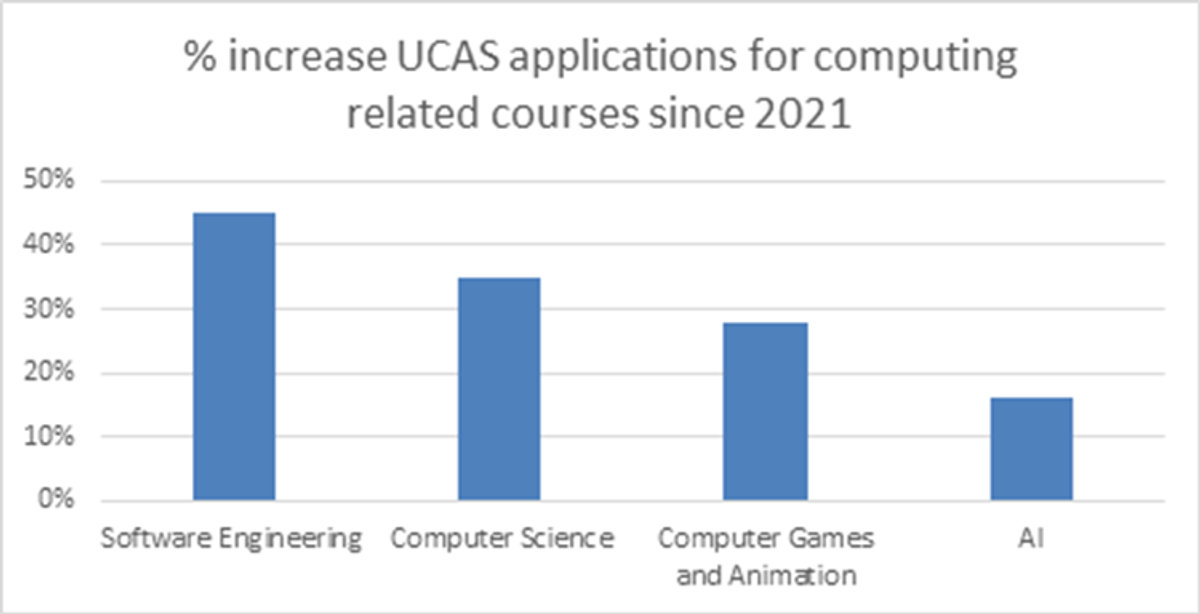 Source: UCAS
Why is Computing becoming so popular with students?
There is no one single contributor but a confluence of several - the ubiquity of technology in our private and working lives, changing perceptions of the sector and high-level government strategies to improve teaching and learning.
Is Computing becoming an extension of young people's everyday lives?
It is likely that the growth of technology in our everyday lives is the primary driver.
Vanessa Wilson of the University Alliance has said a desire to "develop what they see as future-proof skills" and a growing awareness of AI may have a part in the boom.
UCAS has put it down to a "growing conversation around technology and artificial intelligence."
The British Computer Society – the Chartered Institute for IT - found interest in emerging technologies helped boost computing uptake.
Others have said that pupils are now 'digital natives' who have honed and developed their computing skills from a young age using powerful technology and easily accessible on-line tutorials.
Computing sheds its image as the preserve of the few
Perception of the tech sector has also evolved so it is no longer seen as a niche industry.
Computing now has a reputation as a dynamic and creative field that crosses most sectors and has the power to shape the future.
The country's well-documented tech skills deficit – especially in the booming UK gaming industry – may also have drawn attention from those on the brink of entering the world of work.
The high profile of AI combined with career options ranging from cyber security, to climate change and data science are also thought to be a factor.
How is the government and industry helping boost Computing in schools?
Then there are the intervention strategies to improve and increase computing education and the flow of skilled workers into the sector.
The National Centre for Computing Education (NCCE) was set up in 2018 with £84m of DfE funds and extra money from other businesses to improve teaching and halt the decline in students studying ICT related subjects.
Through its nationwide network of grass roots computing hubs, it offers specialist teacher training, continuing professional development and loans personal computing kits to students.
Teachers from any subject can get a 'subject knowledge certificate' so, even though they are not specialists, they can confidently teach computing.
Students get to join coding clubs, live events and access to online resources.
When Computing lessons get a boost, so do students
The support the NCCE offers appears to be having a positive effect.
Not only has the number of students taking the subjects grown hugely, the proportion of teaching hours delivered by non-specialists has fallen from 54.4% in 2017/18 to 45.9% in 2022/23.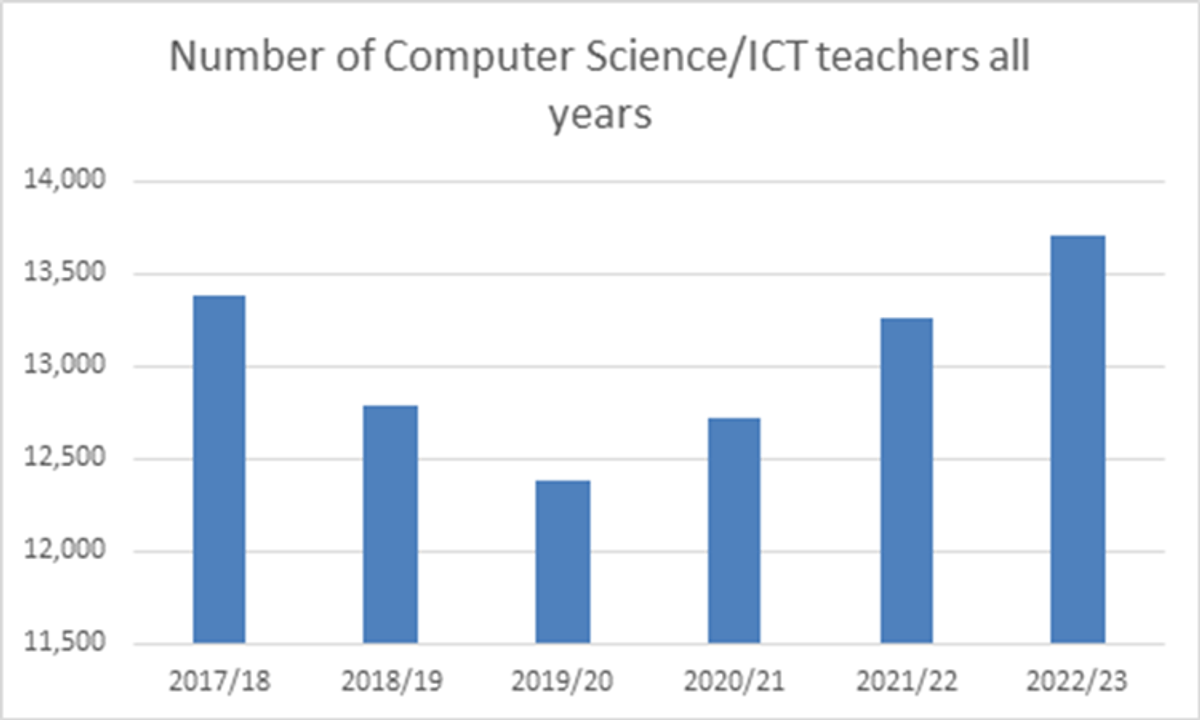 Source: DfE workforce data
But, vacancies are growing and the DfE has hit only 35% of its target for bringing in new recruits in to teach Computing despite the offer of a bursary.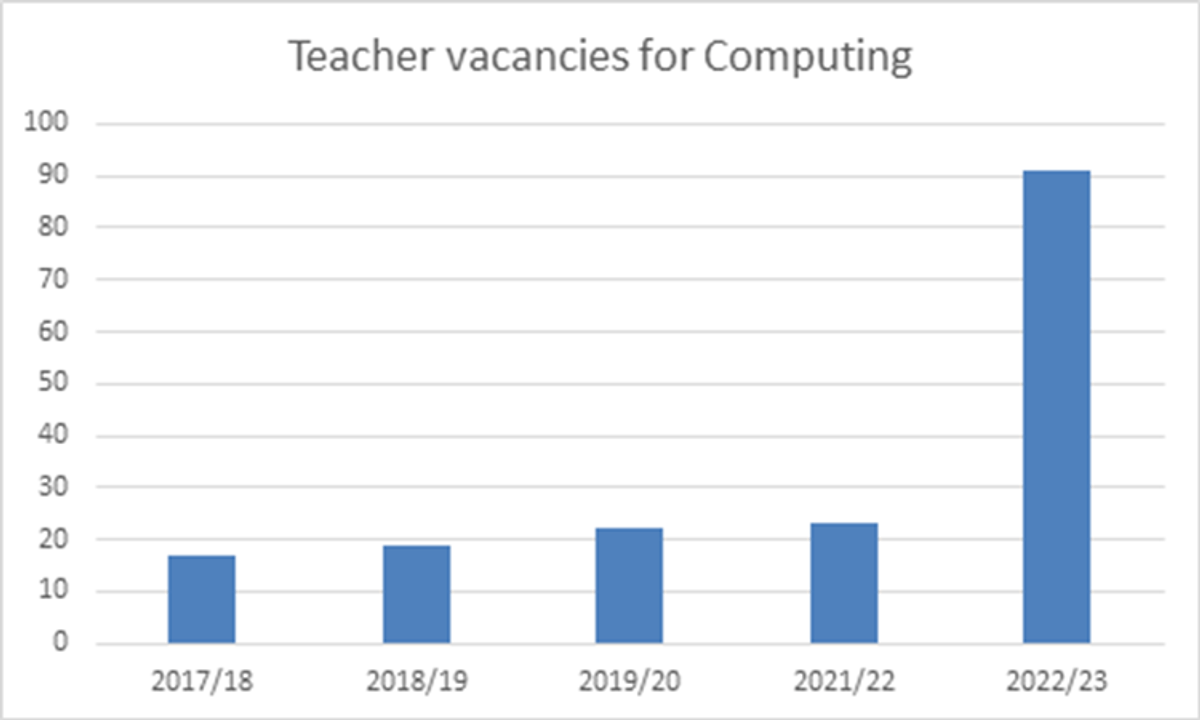 Source: DfE workforce data
Don't forget the students' role in the rise of Computing
Even with all the issues around recruitment, computing has seen the biggest rise in top grades awarded with a 23.3% growth since 2019 - the biggest rise for any subject.
In 2023, more than one in five students - 21.7% - achieved an A/A* in their A-levels, up from 17.6% in 2019. It was a similar number - 21.4% - awarded an 8/9 at GCSE.
All of this success reflects the hard work done by various groups.
The government, educational organisations and industry bodies have promoted the subject and invested in both teachers and students.
Inside schools, leaders have expanded computing curriculum and resources. Teachers have also played a role by developing their skills to improve outcomes in classrooms and computer labs across the country.
But, most importantly, we must not ignore students' efforts to get good grades and their role in bringing about the change.
As Julia Adamson of the BCS put it: "Young people – and an increasing proportion of young women – see that a computing degree is a passport to change the world…It's no wonder so many people see their futures in technology."
More by this author:
Who is responsible for digital literacy?
Reducing gender disparity in the classroom
More on this topic:
Estonia: A small country with big results
Simulation Assessment: A future tool for today
Careers Advice: Plugging the leaks