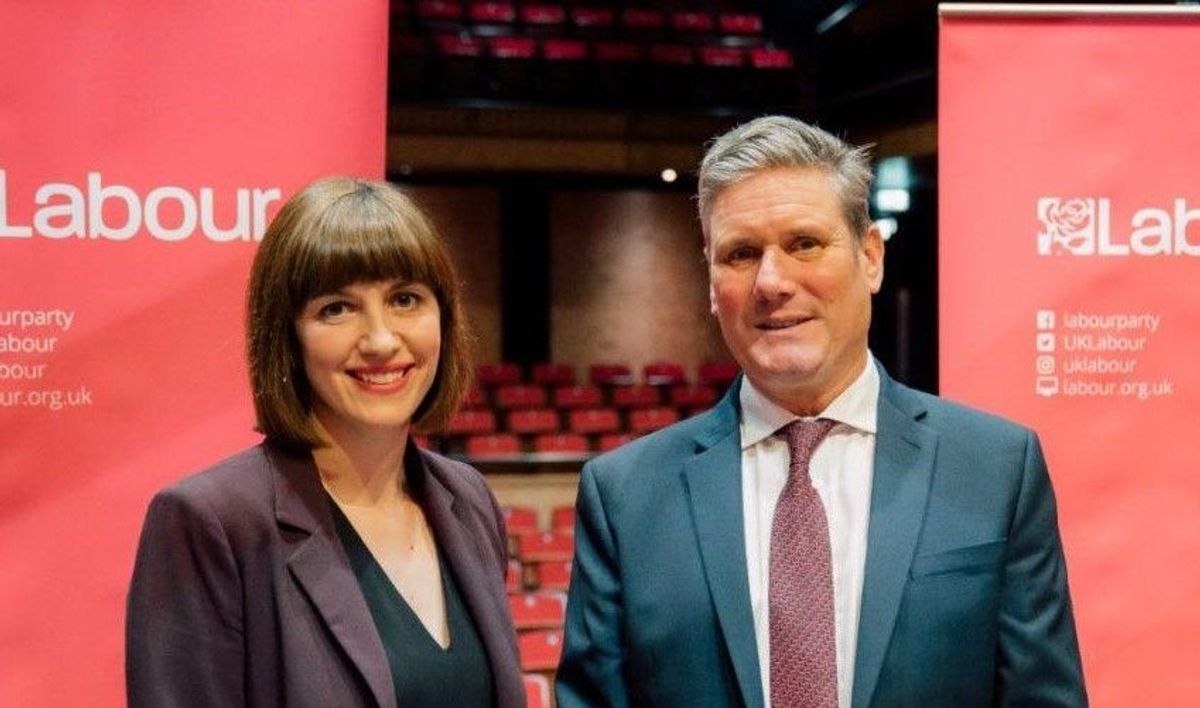 Bridget Phillipson and Sir Keir Starmer both think that knowledge and skills should not be a case of either-or
The hard edges between 'knowledge' and 'skills' in the education policy world are starting to fray.
Labour's view on general and vocational education
Much has been made of Sir Keir Starmer recently saying that students need "a grounding" in both knowledge and skills, with room for both "practical problem-solving and academic rigour."
Over the weekend the shadow education secretary, Bridget Phillipson, reinforced this, saying she doesn't accept that there has to be a divide between knowledge and skills and "it's not about choosing one or the other."
The Conservatives and the skills agenda
In fact, the government has itself focused much more on the skills agenda in recent years, announcing its intention that "whatever qualification a young person or an adult chooses they can be confident that it will be high-quality and will lead to good outcomes."
It sounds good, but many have asked what it really means in practice.
Knowledge and skills - separate entities or two sides of the same coin?
Given the continuing power of the GCSE and A level brands, should we expect this to change the qualifications young people actually take?
In a world where we breakdown the barriers between knowledge and skills, what should that mean for how we assess our students?
Learning skills requires knowledge. Maths is applied to the real world, through engineering, in construction.
The science of electric motors sits at the heart of being a modern mechanic. And similarly, knowledge never sits in isolation. As well as knowing scientific principles or literary classics, what must come is the ability to research, to communicate and to interrogate them.
So, yes, knowledge and skills are two sides of the same coin.
In which case, what if we thought about how to get the best of both worlds, helping our young people succeed in whatever discipline or profession they chose?
Knowledge and skills in the vocational education arena
There are already some huge reforms underway in the vocational space with the aim of amalgamating the assessment of skills, knowledge and behaviours.
In 2017 we saw the scrapping of Apprenticeship Frameworks in favour of Apprenticeship Standards, and we are in the midst of arguably the most sweeping reform at level 3, 2 and below that the sector has ever seen.
Funding concerns for mixed-study programmes
One area of concern for us, however, is the proposal to change funding rules around mixed-study programmes, and the potential for this to undermine the ability for schools and colleges to offer these to our young people.
More A levels being taken could be seen as good for AQA, but as an independent charity we are minded to ask, is it good for students?
Combining general and vocational qualifications widens student choice
Hundreds of thousands of learners who typically do mixed study programmes now will no longer have these choices and instead will need to consider A levels, Apprenticeships, T Levels, or a mixed-study programme made up of A Levels and A Level equivalents (Alternative Academic Qualifications).
We think the benefits of mixed-study programmes are evident.
After all, we've already said that knowledge and skills are two sides of the same coin.
Combining general and vocational qualifications not only allows cross-pollination of knowledge and skills, but also means young people can keep their options open and try out a range of topics and experiences.
In the general qualification space we have development of critical thinking, problem solving, and research skills – as well as knowledge and conceptual schemes which underpin further learning. In the vocational qualification space we have communication, team working and other skills everyone needs, as well as specific industry skills developed over time in real settings.
We believe the best education is one that broadens, not narrows, opportunity.
How can we get the best out of general and vocational qualifications?
Reforming technical education to raise quality and standards is therefore very welcome, but politicians should also look to ensure we get the best out of general and vocational qualifications together.
Perhaps this is the natural conclusion of what Sir Keir has set out – we can't know if that is the Labour Party's intention or not.
But, ultimately, it is through practical design of curricula, assessments and qualifications that we will truly break down the false dichotomy between knowledge and skills.