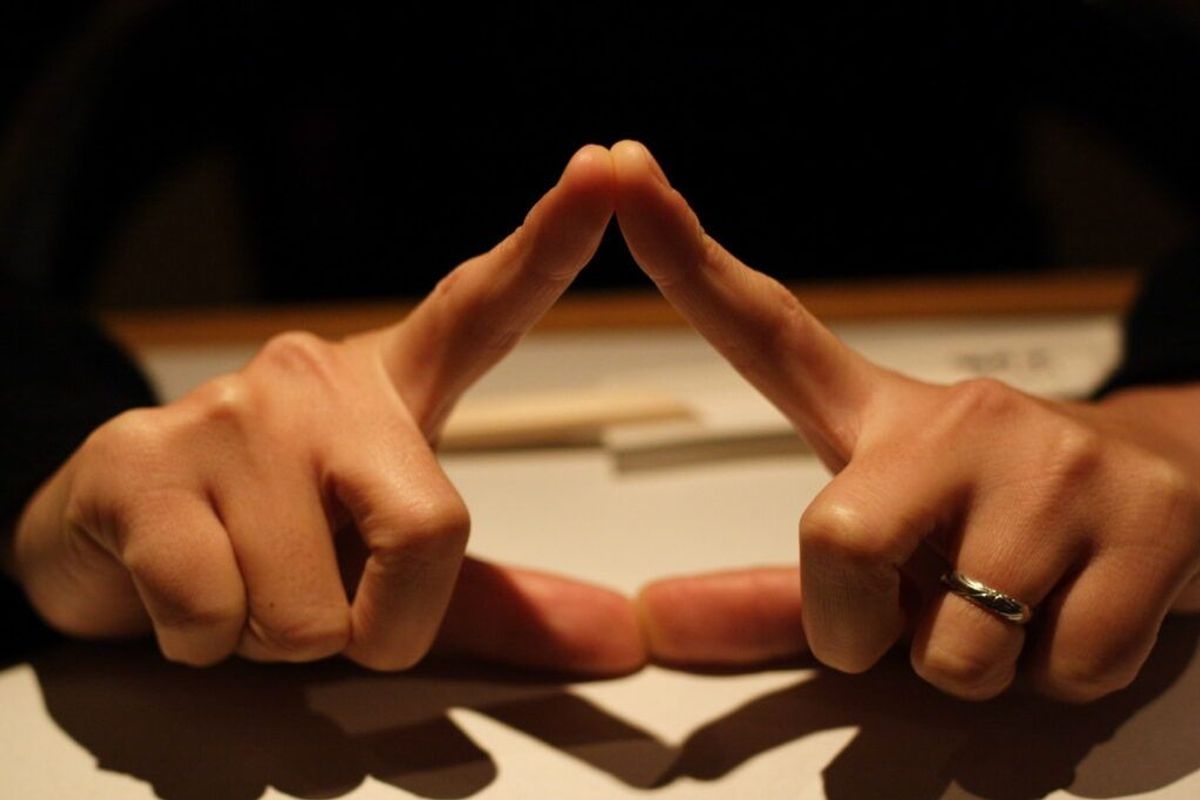 Teachers and Industry can work together with students in a triangle of support
Photo: Katsuuu44/Flickr
I, and many others, have spent a lot of time trying to define what skills we need young people to have when they enter the modern workplace.
We know students must be able to understand and use digital tools in the same way that they need to be numerate and literate, but the answer to what we teach and how is elusive.
What are the problems?
Our computing curriculum is over a decade old and there is a disconnect between thinking in different government departments.
It's hard to blame anyone for this.
Computing technology is fast moving with new digital tools demanding new skills appearing all the time.
Also, most teenagers do not study computing after Key Stage 3 because it is seen as a narrow career pathway and does not appeal to all.
They, their parents and teachers do not always understand the sector with all its new and emerging roles.
For these reasons, we need to switch focus from teaching 'digital skills' to work on developing students' 'digital agency.'
What is Digital Agency?
My definition of digital agency is: Digital fluency combined with the ability to apply that to real life problems.
I'm not saying do not teach digital skills or fluency (the ability to understand, use and manipulate computer hardware and software) as they are a vital to creating digital agency.
All too often students learn how to use a tool but soon forget that skill because they never apply it.
Digital Agency and Good Careers Guidance
Teaching a student how to use digital tools by applying them to solve problems embeds knowledge and accelerates the development of productive work and life skills.
Done early enough, say at KS3, that experience becomes part of good careers guidance, informing future educational, work and life choices.
What is needed to fit Digital Agency into busy curriculum at resource-tight schools?
The main problem to overcome is the gap between what skills young people learn in the class and those that industry needs for the workplace.
Students and educators need greater understanding of digital in all job sectors for this to happen.
Students should know how a digital skill or tool relates to their educational and work pathways, and teachers have to be able place that within the context of their subject.
Finally, industry needs awareness of schools' curriculum so they can help shape it to everyone's benefit.
How Digital Agency creates a self-supporting network between schools and business
In this triangle of support and influence between learners, educators and industry, schools designate themselves specialists in a single subject according to the strengths of their teachers' and school resources.
They form a partnership with relevant local businesses to create a database of projects for students to take on using digital tools.
These could see maths teachers working with Deloitte for example to devise a planning and budgeting projects such as a hypothetical school prom or local media organisations helping English departments create a critical literacy project for students about fake news.
In every case, students will have to collaborate to select specialist, digital tools and apply them to solve the problem with the aid of the industry specialists.
The end result of this will be a network of schools and businesses with a wealth of shareable learning and teaching resources.
If working well, students will develop digital agency – skills and sector knowledge – and teachers will be better informed about the role of digital within their own and other subjects.
Industry input will enhance the curriculum, strengthen careers guidance and as a result, empower the nascent workforce.
How to get Digital Agency teaching off the ground
This will require buy-in from local business and schools.
Some 60 businesses have already backed the Mayor's plans including Microsoft, Deloitte, Siemens and BBC.
Sharing their expertise will put the foundation of that triangle of support and influence in place.
What work is left to be done?
The assessment and certification aspect of this is still to be worked through.
Should it be light touch as the curriculum is already packed at KS4?
Could it be done by a panel of education, industry and assessment experts, maybe it should be assessed by teachers and moderated by experts as Project Qualifications are or with a certificate similar to AQA's unit award scheme?
There are other options and I would welcome suggestions to help find the best way to do this.
John Sibbald is an education consultant with over 30 years' experience teaching and leading with a focus on researching the effective use of new and emerging digital technologies in education.
In 2018 he published a Digital Talent Pipeline report for Greater Manchester Combined Authority
As part of AQi's work, we are inviting people from a wide range of viewpoints to engage with us on a wide range of topics. We welcome alternative views to help stimulate discussion and ideas. The views of external contributors do not necessarily represent the views of AQi or AQA.
Read more on this subject:
What does the future hold for skills?
On-line and on-demand: The future for assessing numeracy, literacy and digital fluency
Knowledge and skills: Two sides of the same coin