Heather Heathcote, 17, Yr 13 John Leggott College, Scunthorpe.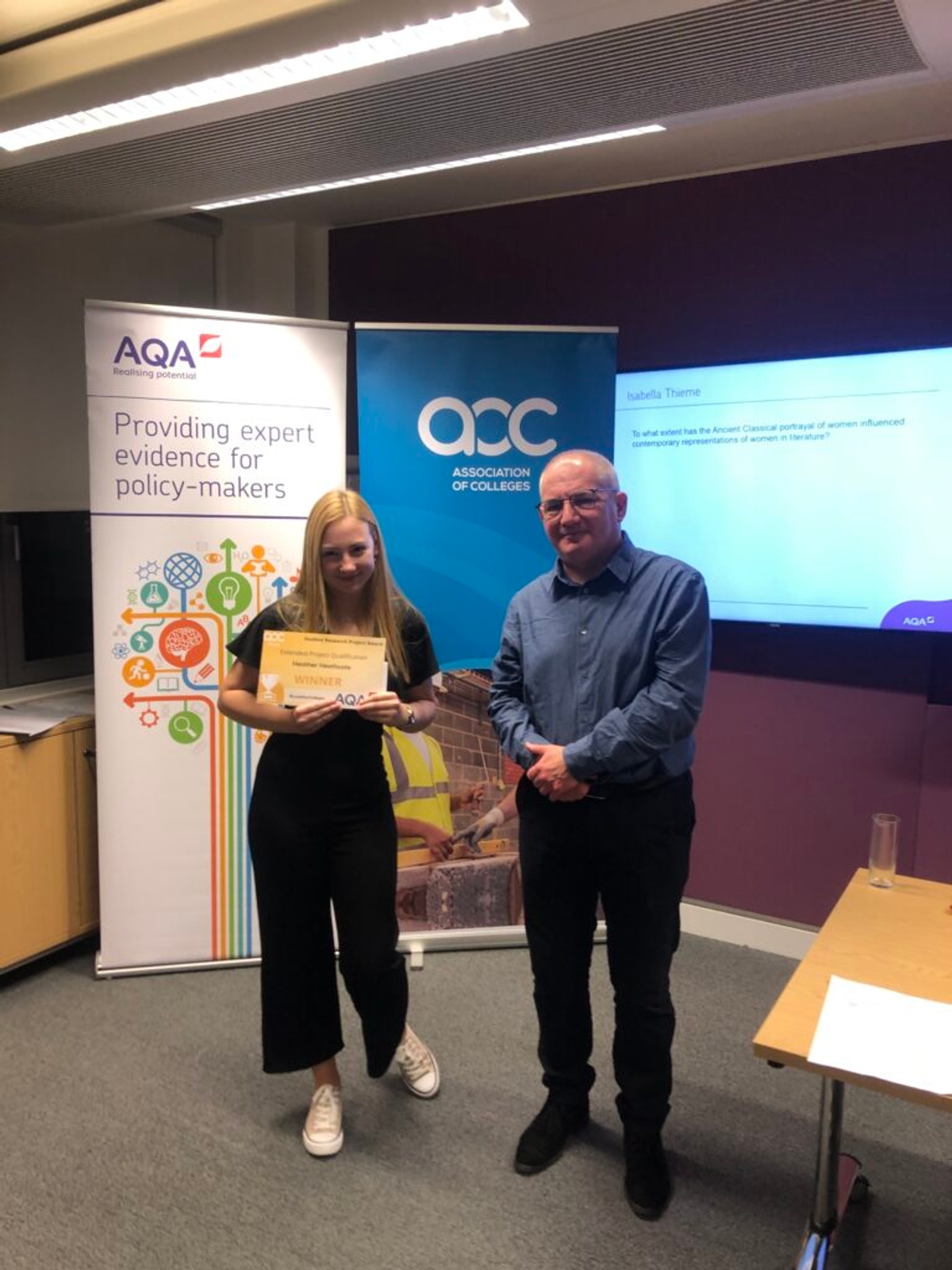 Heather Heathcote with Eddie Playfair of the Association of Colleges accepting her winner's prize
Heather's winning Extended Project Qualification: Cages Through The Ages: How have concerns for animal welfare impacted on the regulation of UK hen farming for egg production? 
I had already decided to study A Levels in Maths, Biology and Chemistry when I heard about the EPQ option during my interview with John Leggott College.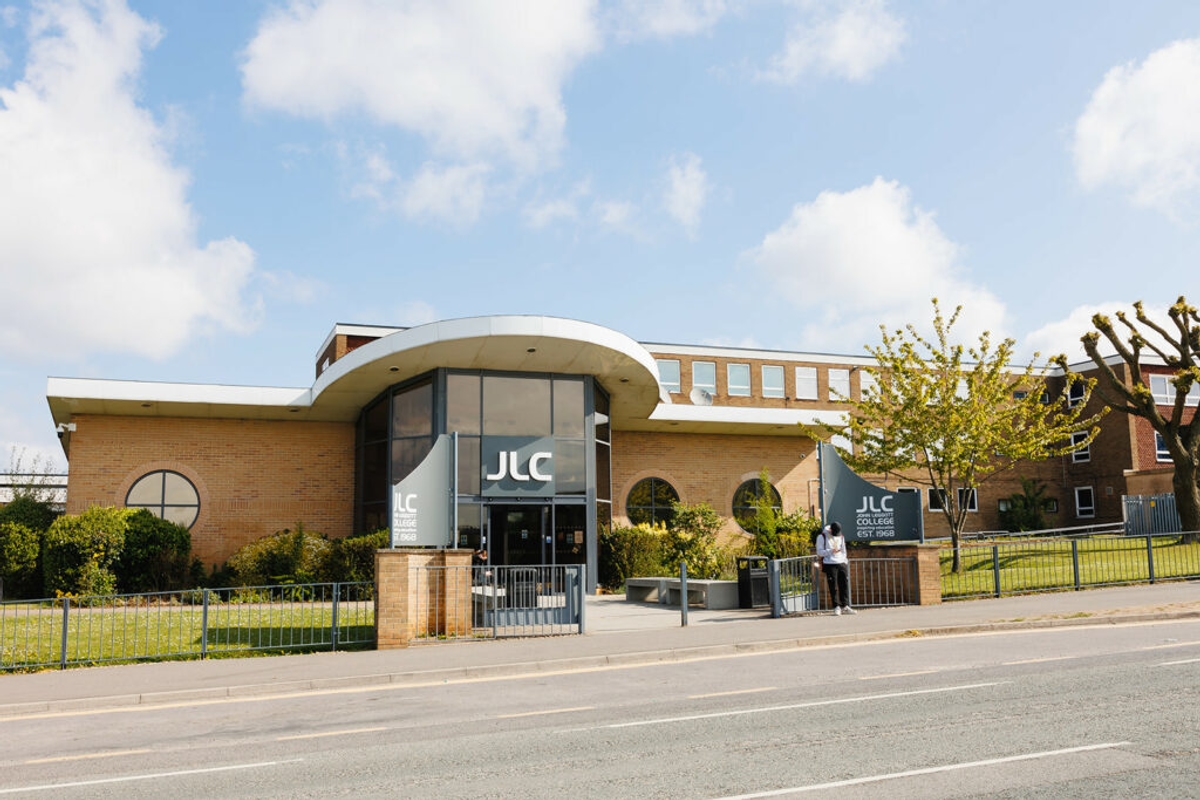 John Leggott College Scunthorpe
I understood that many universities value EPQs and I decided that this was something that I could do.
I knew that I wanted to investigate something that I had a great interest in, to deepen my own knowledge and not just for the sake of doing an EPQ.
My family had adopted three rescue hens from caged commercial laying farms, and I'd been reading about their welfare when I learnt about the EPQ.
It was a perfect opportunity to develop my own interest and understanding in the topic and also be able to present my findings in a professional way.
It was a big jump from GCSEs to doing three A-Levels anyway, but having that additional EPQ workload made it a bit overwhelming at times.
The subject was very different from my A-Levels in that it was very student-led, so you needed to be largely independent with it.
This meant finding a balance in managing my time without neglecting any of my subjects. I found this difficult at first, but I really developed this skill along the way.
We had a 90-minute lesson each week where we'd meet with our supervisor Luke, but most of the work was done outside lesson time.
Choosing to research something I wanted to expand my own knowledge about kept me really motivated and determined to do my project to the best of my ability.
Every couple of weeks I had one-to-one meetings with Luke where we would discuss my progression, whether I was meeting my targets, and set my next steps.
I found the check-ins really beneficial because they ensured I was on track and provided access to support with any aspects I may have been struggling with. We made to-do lists all the time to ensure we were achieving all our objectives and also made long term charts to make sure we hit all the deadlines.
It was the first time I really had to self-motivate but having personal connection to the EPQ topic helped with its depth and added an extra dimension. I realised I had to present a balanced argument in my essay, which was difficult because I have strong opinions on cages and animal welfare. But, adding another point of view made it stronger and deepened my knowledge.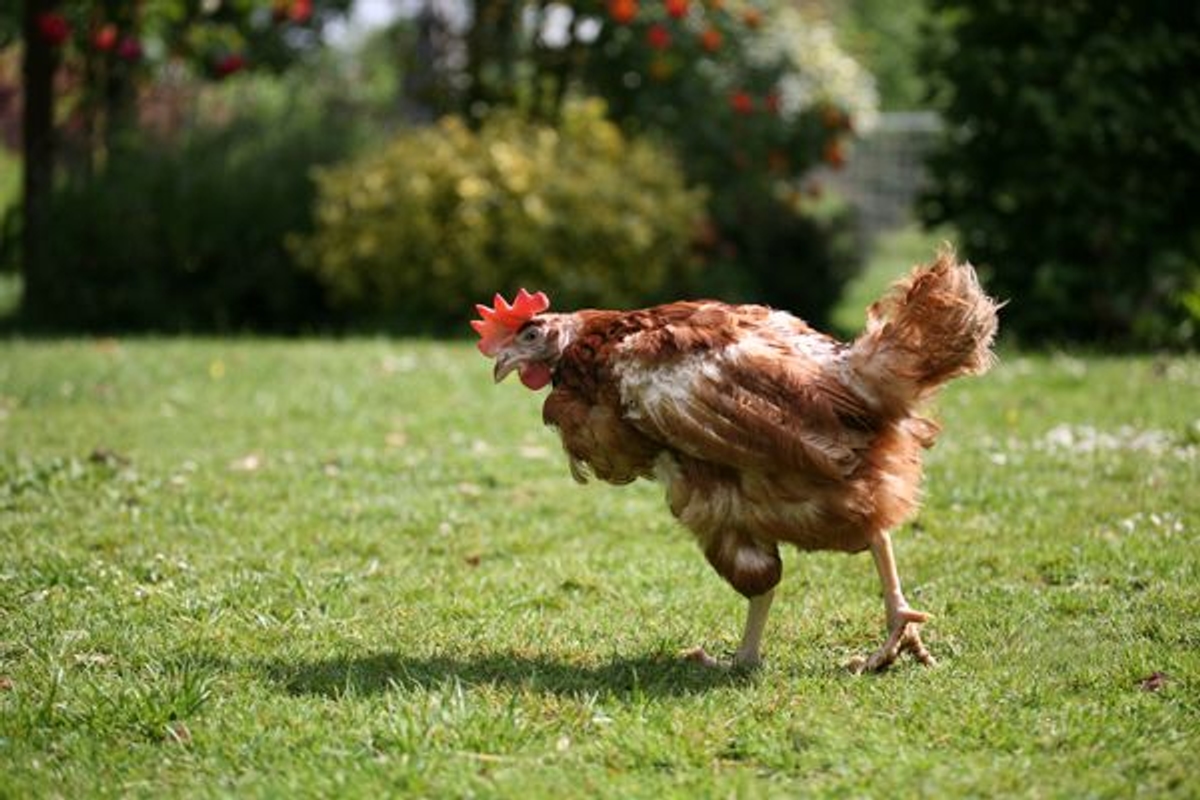 A rescue hen enjoying her freedom
Photograph courtesy of Karen Jackson/Flickr
There were lots of parts to it which I hadn't appreciated at the start - it's not just an essay. There's also the supporting documents you need to put together to make it a project. Things like: the Candidate Record Form, a PowerPoint presentation and resource reliability evaluation. All these took time.
It was a lot of work, but the satisfaction of organising everything and seeing it all come together was very rewarding.
It was also very useful doing a weekly plan as I could see each week what my targets were and whether I had met them or needed to re-evaluate my timeframes. This was also very useful to look back on during my Summary and Reflection as I think this would have been much harder to remember otherwise.
Completing the EPQ was sometimes a struggle but it was definitely worth it. It helped me learn new skills like time management, academic writing and how to research and reference.
I'm hoping they will give me a head start at university.
I am planning to study Veterinary Medicine and have secured 2 offers so far. One of them was reduced by a grade because of the EPQ.
A lot of the vet schools require students to complete third year research projects, so I was also able to say I had already done one and maybe I would be able to look back at it and explore any new developments in hen welfare.
My EPQ gave me a lot to talk about in my interviews and I believe it allowed my passion for the subject to show.
I was also able to say I had been shortlisted for the AOC awards which I hope made me stand out in a very competitive application process.